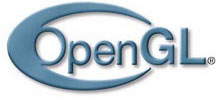 I am at the Siggraph OpenGL 3.0 right now and NVIDIA just gives us the link to their first driver supporting OpenGL 3.0 (with some limitations yet).
The driver can be downloaded here :
http://developer.nvidia.com/object/opengl_3_driver.html 
I will do a complete post on OpenGL 3.0 in a few days, but as you may know it is not the OpenGL 3.0 we were waiting for, since the complete rebuild of the API have not been done (the main idea of Long Peak). But it don't seems so bad that we could have been afraid of, a deprecation and profiles mechanism have been introduced and everybody here seems to be confident on its usage and capacity to enhance OpenGL evolution speed.
ATI is also here, and they announced their GL3.0 drivers for Q1 2009… Hum I don't know why I doubt we will get full functional GL3.0 support for them at this date, even if it is already late compared to NVIDIA.